Mix Head Repair
The mix head is critical to your polyurethane production. In the mix head chambers, different materials are brought together to form the material that will be applied to the end product. Without an accurate mixture, your production process effectively comes to a stand-still.
At Linden Polyurethane, we believe in providing both preventive maintenance as well as responsive mix head repair to keep your operations running as smoothly as possible. And while our mix heads consistently outperform even our own warranty limits, we recommend the need for periodic maintenance and mix head repairs. Linden Polyurethane is the clear market leader in mix head repairs. Our repeat customers are a testament to the level of quality and care taken to provide world class service.
Available Mix Head Repair Services
Repair and Rebuild
Our mix head repair service can address any issues you may be having with one of our mix heads or a mix head from another brand. All mix head repair services are performed as quickly as possible thanks to our extensive inventory of components and in-house machining capabilities.
Contact us to discuss your mix head repair or rebuilding needs.
Parts Replacement
Our parts department maintains a large inventory of spare parts ranging from components for our polyurethane metering machines to our extensive portfolio of mix heads. We also inventory parts for machines from other brands. All in stock parts are offered at competitive prices and can be shipped same-day if ordered before 1:00 PM EST. (When ordering, please include the name, description, and model number of the parts needed on your purchase order.)
Contact us to discuss your parts replacement needs.
Mix Head Rentals
If your mix head is being rebuilt by Linden Polyurethane or you would like to evaluate one of our mix heads before purchase, we will be glad to arrange a short-term loan of a mix head. Mix heads are rented for a period of several weeks to several months.
Contact us to learn more about mix head loans.
Industry-Wide Repair Services
Linden Polyurethane can also support your mix head repair needs even if we weren't the manufacturer of your equipment. We are able to provide repair services for numerous brands, including but not limited to:
EMB
Krauss-Maffei
Hennecke
Graco
Konal
Decker
Cannon
DUT
How to Ship a Mix Head for Repair
Its as easy as 1,2,3 . . .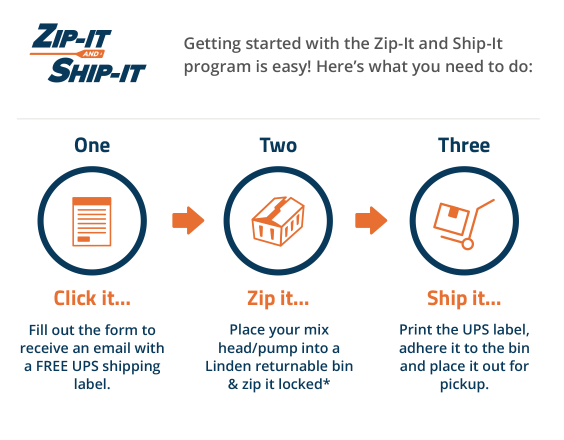 Click Below for Free Shipping of Your Mix Heads